5 Ecommerce Marketing Resources That Work
It's true. If you aren't on social media with your ecommerce marketing for business, you aren't doing a good job of marketing, You've given up tons of clicks and views per day, and most likely you're really frustrated with the lack of traffic you are getting to your business.
Social media marketing can be extremely overwhelming.
You've got to come up with ideas to post.
Constantly.
You need images.
Especially with ecommerce  marketing. Sure, you've got product images, but what about that 80/20 rule that done correctly, really gets traffic and traction going. Honestly, I found that out with my own ecommerce Shopify stores!
In fact, of all the things I've tested, the thing that makes the biggest difference on Pinterest, Instagram and Twitter is simply posting every single day. Consider that as a priority tip for Ecommerce Marketing.
You Need An Ecommerce Marketing Sales Funnel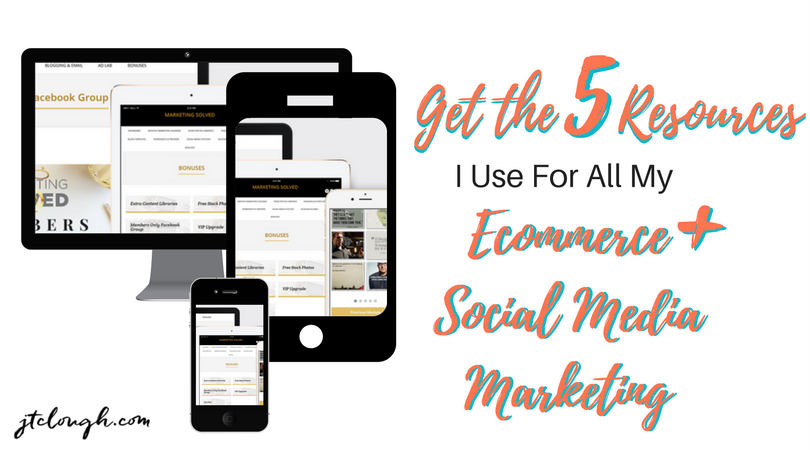 You need a sales funnel to put behind the those images. I mean let's face it, people just don't click and buy anymore. But a good sales funnel attached to your images is a proven marketing strategy that works.
So what is an ecommerce marketing funnel?
It's a natural flow you'll lead your new customers through. It's where you build 4 things.
Attention   |   Interest   |   Desire   |   Action
A good funnel, gets the attention of someone who is interested in your product, it builds interest by giving them the right information to peak their desire enough to want to take action.
Once you've got that kind of funnel, you'll also need consistency. You need to literally post every single day. Sometimes multiple times.
Yeah, I know. It feels impossible right?
Don't worry. Let that go. I've been doing this for a lot of years. I've tried a lot of things. And I'm here to tell you, here is a way you don't have to feel overwhelmed and without enough ideas!
Here are 5 Resources for Ecommerce Marketing that will help you build a funnel even if you have no idea where to start and create images, quotes and ideas to be posted daily.
That's right.
If you want to have a monthly new supply of content images, if you want to know exactly how to build a sales funnel to those images, and you want to figure out how to post all of it in one sitting for an entire month, then you want to get The 5 Resources I Use for All My Social Media Marketing.
Get 5 Resources That Work for Ecommerce Marketing
Use these 5 tools and resources and you'll be well on your way to profitable social media marketing AND have your time back!
Get 5 Resources for Ecommerce Marketing That Work Here
Get this guide to the 5 proven resources I use in all my social media marketing! You'll be on your way to profits quickly.